NFL Football: Changes + Week 3 Picks
I like to think I'm the type of person who welcomes a degree of change in his life. I went about as far from home as possible for college, I changed majors three times at Columbia, I've changed careers twice before 30, and I moved to Philadelphia with my girlfriend two years ago after being together only 10 months. This week's blog, I find myself continuing that pattern of embracing one change, while taking a deeply principled stance against another. Welcome to the inaugural edition of the NFL picks on Sunday morning instead of Friday afternoon. Both of you who read this weekly (hey mom and dad!), I apologize for the disruption, but it's a needed move to lighten my work load during the work week and so that the #freemoney doesn't get lost in the wave of game day posts Friday and Saturday.
This would be me embracing change.What follows is an example of me staunchly resisting change.
Moving the extra point back this season is the picture of needless tampering and I'm tired of it. I've heard all the reasoning and all of it is 1000% unadulterated crap. Things you may have heard: "It needed changing." "The game is more exciting now." "The kicks were too easy."
It's important you recognize that these are lies. They changed this for the sake for change, and there is NO legitimate reason. Look at those specious reasons. LOOK AT THEM. What's the old axiom? If it ain't broke, make sure you tinker so that casual passerby thinks that you fixed something.
As always, home teams in bold.
Giants (-4) over Washington Professional Football Team
Follow me on twitter for your DYC Thursday Night Pick every week.
NYG -4. #DYC #OfficallyOfficalPick #StillAntiThursdayNightNFL

— DPalm (@dpalm66) September 24, 2015
FUN WITH STATS: Kirk Cousins has thrown as many interceptions as RG3 (23) in 45.5% as many attempts. Yet Griffin is described as washed, while Cousins is said to have potential. I wonder what the real reason for the difference in perception of these two is. Huh.
Falcons (-2) over Cowboys
Julio and company versus the walking wounded in Jerryworld? To coin a phrase, "GETCHA POPCORN READY!"

Can't be 16-0 without being 3-0.
Colts (-3.5) over Titans
The Colts have made their bones as a franchise by feasting on the assorted carcasses of the rest of this putrid division. Now, the Colts have a quarterback with a great propensity for turning the ball over,  a lame-duck coach who hates the GM and a GM that is sick of the coach. And they're STILL gonna win this garbage collection of teams.
Raiders (+3.5) over Browns
Thumbing your nose at young Jonathan Football Cleveland coaching staff? Well, that's what you get for putting John Defilippo on the payroll. Prepare to get rolled over by the Derek Carr machine (this is not likely, please don't gamble on this game).
Bengals (+3) over Ravens
Losing Suggs has hurt this defense a lot more than they're letting on. Something has to give and it will be the Ravens defense, over and over and over again.
Patriots (-14) over Jaguars
Welcome to the largest line of the 2015 season. *whispers* And it's not high enough.
Panthers (-10) over Saints
Damn impressed with how Cam and company have acquitted themselves with the football equivalent of the French Army as their receiving corps. No Brees equals HUGE problems for a Saints team looking for win number one.
FUN WITH STATS PART DEUX: This is the first time both McCown boys have started on an NFL Sunday since 2007. This stat provided by momma McCown.
Jets (-2.5) over Eagles
Hahahahahahahahaha. SHIT WAS ALL GOOD JUST A YEAR AGO CHIP.
Hashtag the way we were.
Texans (-7) over Buccaneers
DON'T CARE.
Chargers (+1) over Vikings
Wait, so maybe sitting a year for beating the hell out of your kid ISN'T conducive to still being a top tier back? GO ON… Also, I'm not sure how great AD is running out of the gun, as he's spent his ENTIRE life running behind a fullback, and this whole experiment might be a bad idea.
Rams (+2) over Steelers
Gurley's potential first NFL action and a fired up Rams defense means I'm taking the home team. Bell's return and Antonio Brown being Antonio Brown means I'm probably wrong.
Cardinals (-6.5) over 49ers
I cannot believe I'm buying into the Carson Palmer nonsense. They should just bench him now, and wrap him in bubble wrap until the playoffs. Basically, his knee is a pinata, and someone is getting that sweet, sweet knee candy sooner or later.
Bills (+3) over Dolphins
Rex may not have the offense he wants quite yet, but I bet that his team keeps it close in Miami this week.
Seahawks (-15) over Bears
NEW HIGHEST LINE! Wait, wait, wait, wait. So not only is it Seattle's home opener, but they're hosting the Bears. Not only are they hosting the Bears, but Jimmy Clausen is starting. Not only is Jimmy Clausen starting, but Kam Chancellor is back to feast on some horrific quarterbacking.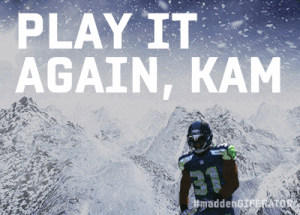 Broncos (-3) over Lions
Lego neck and noodle arm notwithstading, I'm not ready to keep picking against Peyton at night. Not yet.
Packers (EVEN) over Chiefs
I think Bovada has this even due to the Eddie Lacy uncertainty. Never one to look #freemoney in the mouth, I'll take the home team.
I survived Baton Rouge and New Orleans  last week. I'll survive a horrific week 2 of picks.
Last Week: 4-12-0
This Week: 1-0
Season: 12-19-1
Love this? Hate it? Think I'm an idiot? Don't just curse at me under your breath, head to theDude You Podcast iTunes page, and leave a 5-star review to make sure I know it, and have your voice heard on the air.
Posted on September 27, 2015, in Blog, Gambling, General Sports, NFL, NFL, Not Sports, Picks, Podcast, SEC, The UGA Vault. Bookmark the permalink. Leave a comment.