NFL Football: Here We Go Again + Week 1 Picks
Late Thursday night, I was wrapping up editing DudeYouPodcast, I had a nice tall glass of Bulliet in front of me, and I was engrossed in the Patriots-Steelers game, and was right with the world. You see, the offseason is normally brutal, but this one was a true test for the ages. The NFL once again proved itself a 12-month league, but this time for all the wrong reasons. We were talking about deflated footballs, and court cases, and executive overreach, and broken jaws, and supposed racists and everything BUT football. Hell, they even snuck a PAT rules change in on us through the fog.
But that's all gone now. We're back for what happens between the white lines. We're back for the human chess match of the NFL, for beautiful blocks, and jaw dropping catches, and upsets and blowouts and everything in between. Gone are the TMZ cameras, and back is juggling multiple fantasy line ups. And not a moment too soon. Suffice to say, I'm excited for the season to kick off. How excited?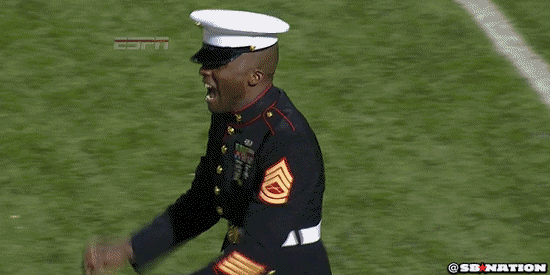 That excited.
If you've been here for a bit, you know how it works. For all the new readers, we take each game, I make a few jokes, and I pick a winner against the spread. Gambling remains illegal, and we would never EVER promote illegal activity at Dude You Crazy, but it's a fun thought experiment to play with fake money. Right? Right. Welcome to NFL Week 1, and glad to be here to save you from a mediocre college slate, losing money on bad bets, and Tom Brady coming out to Nas last night (this actually happened). Home teams, as always, in bold.
Patriots (-7) over Steelers
I continue my refusal to allow Thursday Night Football to be a thing. Short turn times = less recovery time from the previous week = poor level of play = more player injuries. This blog runs on Fridays for a reason, so make sure to follow me on twitter for your DYC Thursday Night Pick every week.
Pats -7. #DYC #OfficallyOfficalPick #StillAntiThursdayNightNFL

— DPalm (@dpalm66) September 10, 2015
Packers (-6) over Bears
The best part about the micro controversy around Mike McCarthy's game-plan to "kick Chicago's ass" isn't that he said it and backed down. It's that he said it, he meant it, and he's 1000% right. I (hypothetically) gamble on NFL and not college because I like known quantities and I respect the professionalism with which they treat my money. The known quantities here are that Rodgers is the best quarterback on the planet, and the Bears are gonna stink this year.
Texans (-1) over Chiefs
Oof. See, this is the OTHER side of NFL Football that your forget about in your excitement. The side that says, oh yeah, not all these teams are good or entertaining, and occasionally, the not so good or entertaining teams will play each other.
Browns (+3) over Jets
Like this game! I for one am kind of glad the NFL front loaded Sunday with games I don't feel bad about missing. I don't like RedZone, and being able to focus on Green Bay/Chicago is appreciated.
Colts (-2.5) over Bills
One team has a really promising defense and running game, but no quarterback. The other team has a quarterback, a great receiving corps, and MAYBE a running game, but a suspect defense. Riding with the road favorite.
Dolphins (-3.5) over Washington Professional Football Team
Apparently, Gruden has forgotten that he tried the Kirk Cousins thing last year, and he was so bad, he got benched for Colt McCoy. He'll remember against this Miami defense.
Carolina (-3) over Jaguars
At some point, I'm going to regret all these road favorite picks. This is not that point.
Rams (+4) over Seahawks
So, Seattle is coming off of back to back Super Bowl appearances, they were forced to forfeit a legitimate fiscal advantage because they finally paid Russel "This water cures concessions" Wilson the money they should, and they remain in an inordinately tough division. Add in losing their best interior lineman for cap reasons, and bringing in a tight end who cannot block, and I think the Seahawks are in for a rude awakening all year.
Cardinals (-2) over Saints
Yeah, that non-blocking tight end I talked about? He was all Drew Brees had last year, and they STILL stunk. New Orleans, welcome to another decade of irrelevance. And all is right with the world.
Chargers (-2.5) over Lions
WELCOME BACK MEGATRON HIGHLIGHT SEASON!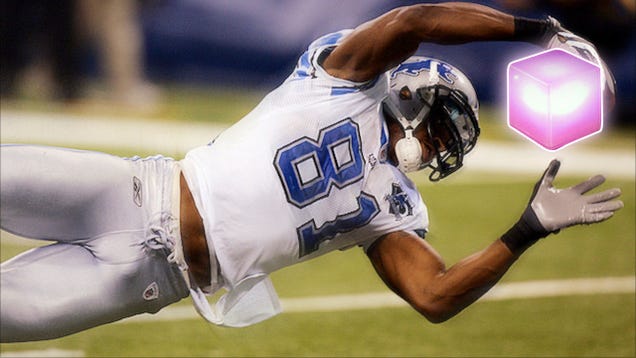 Buccaneers (-2.5) over Titans
A battle between the top rookie quarterbacks sounds good on paper. But, the reason these teams were in position to draft Winston and Mariota is because they weren't very good last year. They won't be very good this year either. Bet ye not on these rookies.
Bengals (-3) over Raiders
Welcome to the Ineptitude Bowl!
Ravens (+4) over Broncos
It's sad that the best late game is a battle between Joe "ELITE(?)" Flacco and Peyton "Lego Neck" Manning. After Denver colluded with Dallas to give Thomas and Bryant the same contracts in the offseason, you would think that the next priority would be locking up a quarterback to throw the ball to Thomas. But no. Denver is sticking with the guy who can't feel his fingers.
Cowboys (-6) over Giants
I am sneaky optimistic about the Cowboys this year, if only because the 'let football guys build and run the football team' experiment Jerry has been running seems to be paying off. Who'dve thought trusting the people you pay to be smart about football would work. I don't think I like sensible Jerry Jones.
Falcons (+3) over Eagles
I just moved back to Atlanta from Philadelphia, so watching this #BEATEMDOWN will be extra good for me. Oh, and for those of you new to the blog, I am an unabashed Atlanta homer, so take this pick for what it's worth. Also:
ROAD TO 16-0 STARTS WITH 1-0!!! RISE UP!!!
I regret nothing.
Vikings (-2) over Niners
Do you think that San Franscico casual fans realize what a dumpster fire their team is going to be, or will they be unpleasently surprised during the Chris Berman vanity project game of the year?
That's it folks. We made it through the offseason, and another gambling NFL season is upon us. Enjoy the games, enjoy pumpkin themed beverages, and, if gambling happens to be legal where you are, win yourself some money.
Last Week: 0-0
This Week: 0-0-1
Season: 0-0
Love this? Hate it? Think I'm an idiot? Don't just curse at me under your breath, head to theDude You Podcast iTunes page, and leave a 5-star review to make sure I know it, and have your voice heard on the air.