#DawgsintheNFL: What Would A Roster Currently Look Like?
The big news over the weekend (this is still dead season) is that Alabama got its whole OFFENSE from one particular play in 2012 into the NFL. I'm sure the same could be done with a Saban era defensive package at some point, but this is just insane.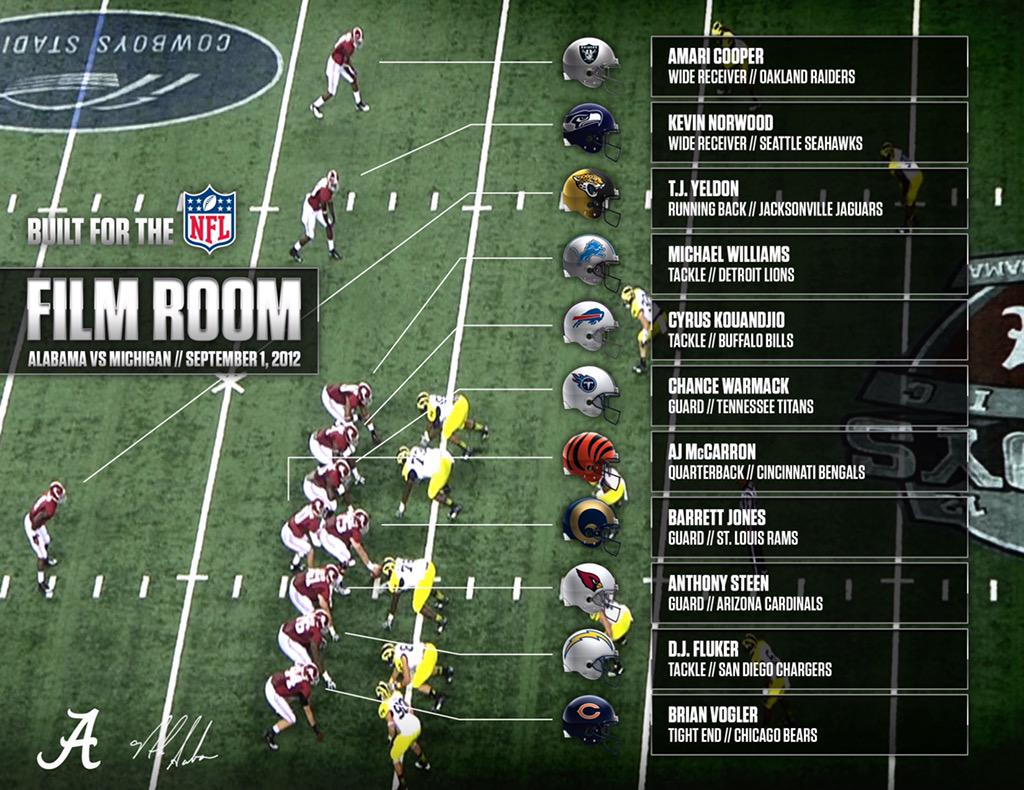 It got me thinking: what would Georgia's current NFL roster look like? Could it compete for the playoffs?
Probably not, but maybe. Let's have a debate in the comments.
Offense
QB: Matt Stafford, Lions. Starting with a top-1o QB is always promising. With Aaron Murray as what I'd consider a competent backup, and Hutson Mason holding clipboards, we're off to a good start.
RB: Todd Gurley, Rams. Without a snap under his belt in the league, Gurley's stock may never be higher than it is now behind a porous OL and a punchless passing game. The depth chart here gets tricky without Isaiah Crowell as the backup, and with Nick Chubb/Sony Michel/Keith Marshall etc. still in college, and Garrison Hearst/Terrell Davis/numerous others long retired. Not great, but maybe we just spread it out.
WR: A.J. Green, Bengals; Kris Durham, Lions; Marlon Brown, Ravens; Chris Conley, Chiefs. Hell, this is at least as good 1 through 4 as what Stafford has in Detroit. A.J. more or less replicates Megatron and Kris Durham = Kris Durham.
TE: Ben Watson and Orson Charles, Saints. They're being called on to replace Jimmy Graham (they won't replace Jimmy Graham). Give me Jeb Blaze in three years and we're cooking.
OL: Cordy Glenn, LT, Bills; Clint Boling, LG, Bengals, Ben Jones, C, Texans; to be named later: the right side: Alright, we found a major flaw. Glenn is a good-to-potentially-elite anchor, Bossman Andrews could very well be perfect for the Patriots…but we're missing some pieces here.
Stafford/Gurley/Green is a hellacious combo at the skill positions. Some depth at RB and some competent line play outside of Glenn and Jones and you could put together a competent NFL offense. I'm willing to bet Georgia is MUCH closer than most schools in this regard. One would have to grade it out as an incomplete by default, but a couple 300-pound stiffs and you have a line better than what TG3 will be running behind in 2015.
Defense
DL: Geno Atkins, Bengals; Charles Johnson, Panthers; Jarius Wynn, Bills; and a whole lot of depth of run-stuffing. Atkins is an All-Pro, Johnson and Wynn are excellent DE's, and the depth would be the envy of any NFL team– DeAngelo Tyson and Abry Jones have both been solid rotation players in their careers, John Jenkins and Kwame Geathers would serve as the three-technique rotation on a decent 4-3 lines with the names in bold, and guys like DeMarcus Dobbs, Garrison Smith, and Cornelius Washington are as decent of depth fillers as you can have in a salary cap-less hypothetical.
LB: Justin Houston, Chiefs; Thomas Davis, Panthers; Dannell Ellerbe, Saints; Alec Ogletree, Rams. In this hypothetical 4-3, Houston is probably not the NFL sack leader. In the middle, either Ellerbe should bounce back or Tree continues to do Tree things, and Davis has been a great WILL for the Panthers when healthy. If switched to a 3-4, Houston goes nuts but you lose some of Atkins' effectiveness. Depth is not an issue here– Akeem Dent has hung around for a while, Jarvis Jones could still break out with the retirement of Jason Worilds in Pittsburgh, and 'Marlo and 'Mik are solid depth/special teams.
CB: Tim Jennings, Bears; Brandon Boykin, Eagles. The NFL is a passing league, and you have two #1 corners to start, so that's good. Depth, however, is a major concern: Sanders Commings and Damian Swann, and that's about it.
S: Bacarri Rambo, Bills; Shawn Williams, Bengals. The Grantham Gang is back together, and I love that. However, neither has been able to crack an NFL starting lineup to this point (Rambo will have a chance with Da'Norris Searcy's departure). There is literally zero depth behind them, so Swann will be pulling double duty.
The defense, like the offense, has some ridiculous talent. Give me Atkins, Houston, Johnson, Tree, Davis, Jennings, and Boykin, and I have the makings of a crazy-good D. However, like the O-line, the secondary is the fatal flaw (although there are at least bodies this time!)
Special Teams
K: Blair Walsh, Vikings. Another top-10 NFL talent. Nice.
P: Drew Butler, Cardinals. And again!
Ret: Boykin. Have you seen him returning picks for the Eagles lately? Good problem to have.
Georgia cannot make the claim that it put 11 NFL players on the field on any one play in the recent past. But when one runs quickly (as I just have) through the list of adequate NFL QB's, Stafford is the only one who one could conceivably put a decent team around. A.J. McCarron ain't getting it done.
On the defensive side of the ball, Atkins and Houston are elite (think 90+ Madden rating) talents, Davis, Ogletree, Johnson, Jennings, and Boykin are all above-average, and the depth is enviable on the front seven.
I hate to sound like a homer, but with a competent offensive line this is, at worst, a slightly below average NFL team.