Greyson Lambert Transfers to UGA: Has Mark Richt Finally Lost Control of Something?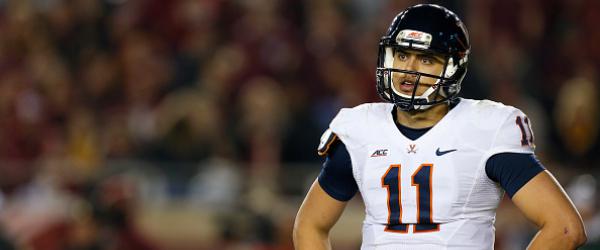 It was not so long ago that one of the most consistent football programs in the country was constantly being accused of an inner chaos that no one could confirm or deny. But everyone who threw that accusation around knew (somehow) that it was Coach Mark Richt's fault. Richt has lost control of his players' behavior, of his offensive strategy, of his defense's integrity, etc.
We've now arrived at a time in the history of the University of Georgia in which that old diddy has gone out of style. Most people use it as a joke now. Mark Richt has lost control of his hair line — things like that. But with the recruitment and successful landing of transfer quarterback Greyson Lambert I suspect the ole gal has one more run left in her.
Has Mark Richt finally, really, and truly lost control of something?
There were plenty of odd rumors to suggest something might be amiss in the Classic City. First, turnover-prone Everett Golston was not only considering UGA as his landing spot but UGA might have been actively recruiting him. When Golston announced he'd be taking his services to Tallahassee I imagine most of us breathed a sigh of relief. Dodged a bullet, we all said, if the gun was even loaded in the first place.
And yet, here we are.
Today the AJC and others confirmed that Lambert, a Georgia-native who started nine games for Virginia in 2014 before losing the starting job, will transfer to UGA with two years of eligibility. Lambert threw for just under 2,000 yards at UVA with 10 touchdowns and 11 interceptions.
None of those numbers look particularly good. Granted, they look a lot better than the numbers of Brice Ramsey, Jacob Park, and Faton Bauta. But still, even the staunchest supporters of this move would have to admit that his résumé isn't top notch.
Now, part of the reason this move by UGA seems so strange is that it might actually be the product of the newest element in the UGA offense: freshly hired Offensive Coordinator Brian Schottenheimer.
You could swing this argument one of two ways. You could say that Bobo was far too loyal to the QB's he developed. They certainly weren't all world-beaters (cf. Cox, Joe). But you could also say that Schotty wants his guy and these three show no signs of becoming that guy anytime soon. So perhaps Schotty has gone out and gotten someone he thinks can do what he wants and do it right now.
So while most predict that Brice Ramsey will still be the starter come opening day, the speculation will only ramp up as to how solid that prediction actually is. Moreover, if Ramsey is named the starter there will inevitably be a huge swath of fans wondering why on earth you decide to pursue Lambert in the first place.
Take all of that into consideration and this new transfer has already put the 2015 season into a chaotic register, but I don't think its as bad as some folks will make it out to be.
I don't think the Greyson Lambert transfer is evidence of chaos under Mark Richt.
Richt and Schotty will say they have "brought in a guy to compete," which is really just coachspeak for 'We just got another QB that could foreseeably start for our football team and that is never a bad thing so shut up.'
If all the coaches wanted was competition I'd happily point out to them that they already have three dudes competing with one another. If they are having trouble getting those dudes to compete then that seems to be more of a coach-problem than a numbers-problem.
Lambert only benefits UGA, provided that Schotty doesn't fall in love with Lambert while Richt's rose always goes to Ramsey (that's a Bachelor joke for the Dude). If that conflict happens then things really could get dicey for UGA come the Fall.
Long story short: if Greyson Lambert comes in and is the answer then Richt is the smartest guy in the room. If Lambert stinks and stays at UGA to get his grad degree whilst carrying a clipboard, then is anyone in this equation worse off? I don't think so.
For what it's worth, I suspect that Lambert will start for UGA in 2015 but I'm wrong on just about everything so forget I said anything.
When all is said and done, the greater problem that Lambert's transfer throws light on is that UGA just doesn't have the most important piece of their football team in place yet: a solid starting QB.
Not only are we missing this vital cog but we have watched several favorable schedules slip away without the results that all of us wanted. Add to that the quickly rising stock of our division rivals — Tennessee and Florida — and it looks like things are only going to get tougher from here, regardless of who's under center.
Either way, Jacob Eason can't get here fast enough.
xoxo
Jason