Kenny Hill Losing His Job To Backup QB, Playoff Committee Ranking Issues, And More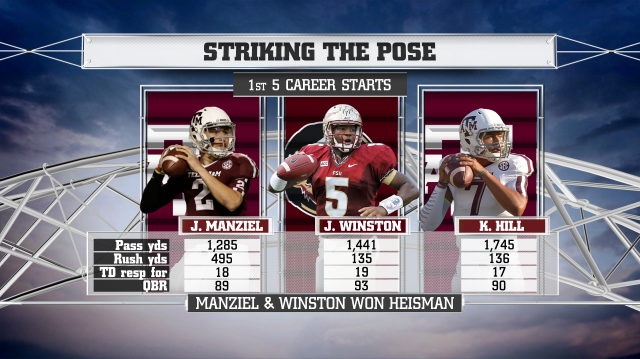 Kenny Trill For Heisman
It is safe to say that Kenny Hill is not Johnny Football. Kenny is not half the football player Johnny Football was at A&M, and because of a cake schedule in the first few weeks, Hill was touted as the "Heisman front runner". Kenny even got his nickname "Kenny Trill" trademarked. I do not think he will be making too much money off of that trademark in the coming years. He got embarrassed against Mississippi State, then completely exposed against Alabama. Now, Kevin Sumlin has opened the QB battle up once again, showing that you cannot give the Heisman away in September. Here is Sumlin's comments.
Playoff Rankings 
Let's not all over react over the first release of the playoff committee's top 25 that was released last night. Georgia is sitting at number 11 and has just as good a chance of getting in as Alabama, Auburn, and all other one loss teams. If Georgia wins out, the rest will take care of itself. My issue is the fact they put Ole Miss ahead of Alabama because "they won the head to head". Fine, but Oregon lost to Arizona and is ranked ahead of them because of "a key injury". Alabama lost their starting center, inside linebacker, and explosive playmaker all in the first half against Ole Miss, I guess those aren't "key" enough injuries for the committee. Here are the full rankings.
Dream Killer 
"Death Valley, is where dreams go to die". LSU is one of the toughest places to play, and I look forward to traveling their to watch the Tide play next weekend. I hope I have a better time than my journey to Knoxville, but I really do not see that being an issue. LSU is going to be tough to beat next weekend, but if Alabama can control the line of scrimmage and continue to stop the run with success, this should not be a problem. Here is a list a games where dreams went to die in Death Valley.
Looking for Georgia football highlights?  Download The UGA Vault for FREE today and gain access to exclusive interviews and the greatest plays in Bulldog history.
-Alex