NFL Football: Week Three GIF Round Up
The UGA Vault is giving away a VIP Game Day Experience for the Tennessee/Georgia game complete with tickets and tailgating supplies! Entering the contest just takes two minutes.  Go here to learn more!
Welcome to your weekly NFL GIF round up. Please stay seated, and keep your arms and legs inside the cart at all times,.
Falcons 56, Buccaneers 14
So much abuse in this game, the NFL is going to claim they never saw the tape.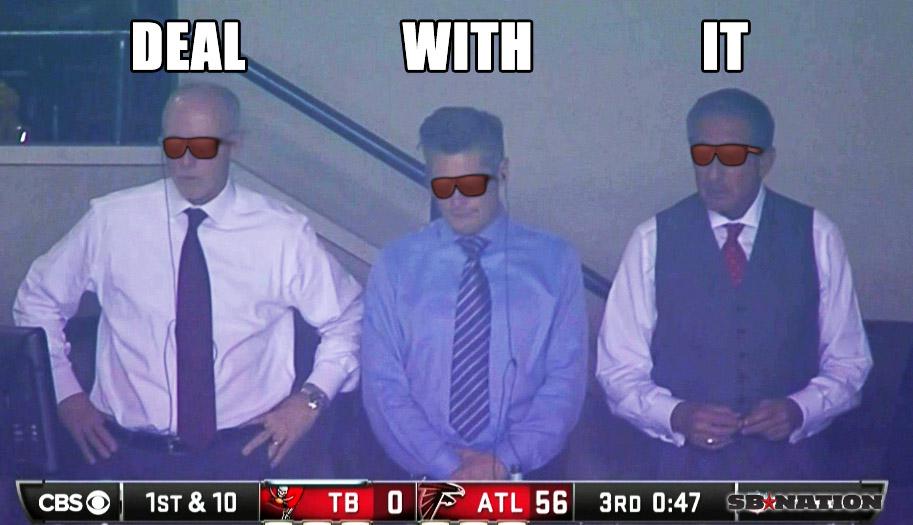 Cowboys 34, Rams 31
A pick six happened, and Tony Romo didn't throw it (jk lol, he totally threw one, but this one ended the game).
Washington Professional Football Team 34, Eagles 37
DJacc made a splashy return to Philly, but the Eagles won the fight started by the second GIF, and then they won the game.
Vikings 9, Saints 20
Saints got their first win of the year, but there was no way I was not gonna run this GIF. BAH GAWD, THAT MAN HAS A FAMILY! (Jim Ross voice, of course)
Titans 7, Bengals 33
Titans fans: Andy Dalton is stylin' on you. That is all.
Ravens 23, Browns 21
I am absolutely giddy at the idea of the Steve Smith Sr. revenge tour vs. the Panthers next week. He may ask to play offense AND defense.
Packers 7, Lions 19
Stephen Tulloch tore his ACL celebrating a sack. It's not indicative of the game, but it IS indicative of the Lions.
Raiders 9, Patriots 16
FATMAN TOUCHDOWN INTERCEPTION!
Broncos 20, Seahawks 26
INSANE fourth quarter and overtime, as the Broncos put up a better showing than the Super Bowl, just not good enough. Not the way you want to come back from suspensions/concussions for Welker here.
Chiefs 34, Dolphins 15
Hartline sunk the putt, but the Chiefs won their first game.  CUE KOOL-AID ANDY REID!
Steelers 37, Panthers 19
This is an interpretive GIF, wherein Joey Porter represents the Carolina Panthers.
Bears 27, Jets 19
This is who you are Jets


Love this? Hate it? Think I'm an idiot? Don't just curse at me under your breath, head to the Dude You Podcast iTunes page, and leave a 5-star review to make sure I know it, and have your voice heard on the air.
It's never too early to get ready for the next game! Some of the greatest plays in Georgia history came against the Tennessee Volunteers. Get ready for the matchup with the Vols by watching those highlights for free on The UGA Vault. Click here to download it for FREE!