Weekly Schadenfreude: Florida Fans, Fake Punts, and Flipping Mormons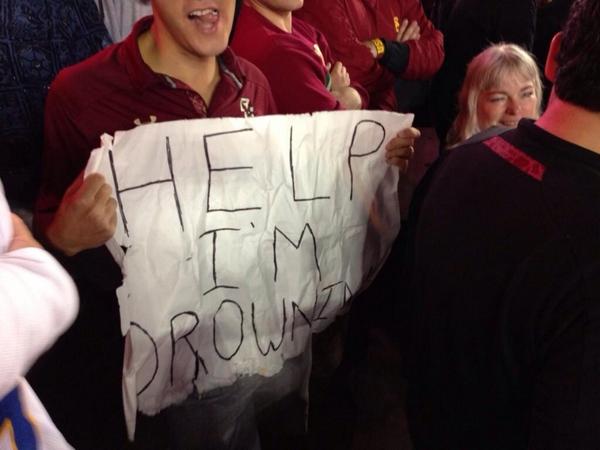 Week 3 of College Football was bananas.
It was particularly delicious for those of you that don't have much of a dog in the hunt per se but love to watch the game because the players are juuuuuust bad enough to troll the living hell out of organized play. This week was full of goodies for folks like you.
Last week we treated a single story (Florida having to pay Idaho a million dollars for kicking them the football.) This week there were too many tasty disasters out there to limit it to just one.
So here's the rundown. Starting with the Thursday Night game!
MORMONS ARE FLYIN THREW THE AIR AN SHIT
Yup, you are flying through the air right now this is not good.
Like this is the definition of getting "de-cleated."
Fun scenario: you're the linebackers coach at BYU and you have the following Friday to the next Saturday to rub this in. How many times do you play it during film study? I've played it upwards of 15 times and I still find myself chuckling and I don't even know this guy. Do work!
SURE OUR LINEBACKERS ARE FLYING THROUGH THE AIR AN SHIT BUT AT LEAST WE CAN COVER A HAIL MAR….oh damn
My favorite part of this is the Ref confirming that this is actually a TD then doing the "beat-just-dropped-but-I-can-only-dance-by-head-nodding" move that every middle-aged white male has known since birth.
FLORIDA FANS ARE SOMEHOW SURPRISED THAT THEY STILL SUCK
UGA fans are used to games against cupcakes ascending to the "might induce cardiac arrest" level (cf. Colorado 2006). Florida fans, on the other hand, well….
They seemed to hit most of the Five Stages of Grief.
First, denial.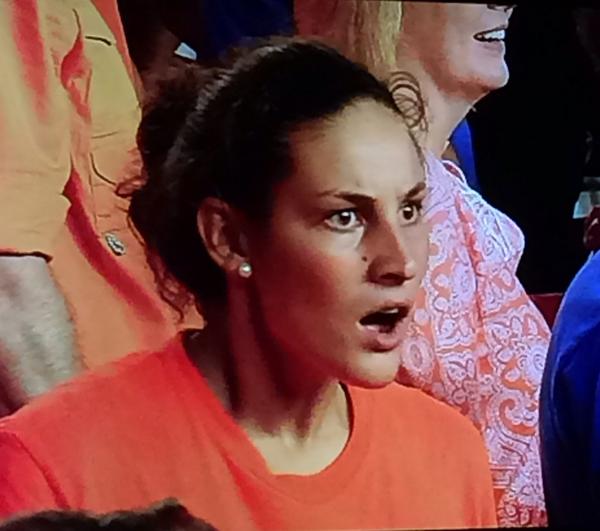 Then, anger
Bargaining
Finally, Depression.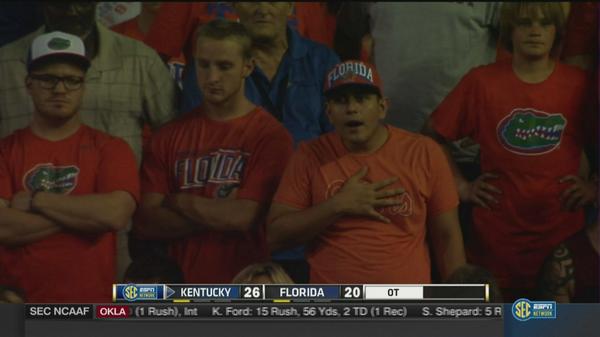 Florida fans eventually got around to Acceptance, as they managed to fall backasswards into the win column after 4OT's.
Still, I can't accept the physics of this game-tying Kentucky Field Goal.
I mean what the damn hell….
EITHER THIS IS THE WORST FAKE PUNT OF ALL TIME OR THIS ARKANSAS STATE PLAYER THOUGHT HE SAW A BEAR.
This may be one of the greatest GIFs I've ever seen. Definitely a GIF of the year nominee. Maybe not as good as Antonio Brown curb-stomping a punter, but man this is excellent.
Watch this Arkansas State defender do what can only be described as the "worst trust fall ever attempted" during this fake punt.
Now, before you play it again and again and again (which you will), check out the reverse angle WHEREIN THE MIAMI PLAYER ASSIGNED TO THIS FOOL DOES WHAT WE ALL HOPED HE WOULD DO…
Here are my preliminary questions for the "play dead" guy:
1.) What were the exact words your special teams coach used to describe your task on this particular play?
2.) Were you going for "sad kid with no friends does a trust fall" or was there perhaps a bit of "protest deforestation by imitating a falling Barrigona tree?"
3.) You seemed to get up only after you realized the ball had been intercepted. If the ball had not been intercepted how long would you have lain prostrate upon the turf? Till the end of the play? The Game? Until life regained its meaning for you?
4.) Was it in fact that you had forgotten your assignment, were afraid you were going to get lit up by the Miami player across from you, and in the heat of the moment adopted a strategy from your brief knowledge of Kevin Hart..?
Fun Project: go back and watch the first vine and imagine the offensive lineman goin, "Wayne. WAYNE?!" and then the guy on the ground being like "you better shut up before you get shot."
God bless you, Arkansas State.
xoxo
Jason