UGifA: The Best GIFs and Vines from UGA vs. South Carolina
So, fun story: as you might have noticed if you follow any and all of us on Twitter, the DudeYouCrazy "writing staff" (lol I just called us a "writing staff") have all had to change our avi's to something of Brandi Mills' choosing. Only the Dude decided to help her out and make sure that I–the eternal pessimist–had to use this as my Twitter avi….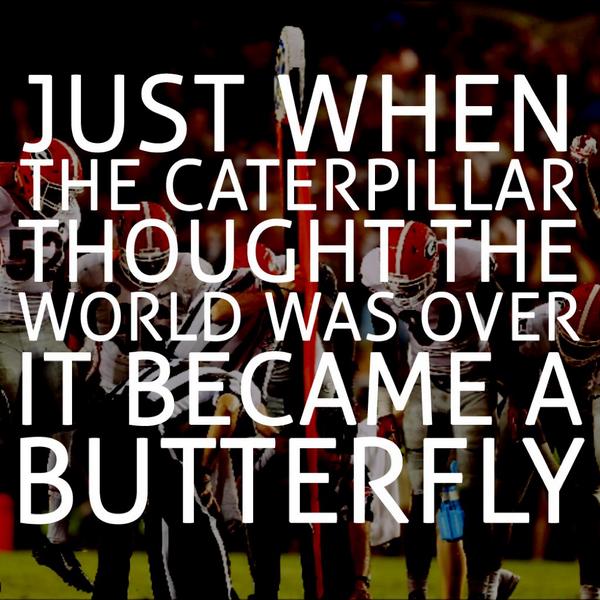 So, in light of that, I present you dem GIFs from one of the worst losses in recent memory (and by recent I mean since like the next to last game of last year) IN THE MOST OPTIMISTIC WAY POSSIBLE.
For those of you who don't follow me on the Twitter, I'll have you know my optimism was already at full tilt on Saturday night.
If you don't get that joke…
So it's gonna be hard for me to take this positivity up to another level. But "taking it to another level" is my middle name.
YAY I'M HAVING FUN. ARE YOU HAVING FUN? WE'RE HAVING SO MUCH FUN AND ALL GOING TO (die) HAVE FUUUUUUNNNNN!!!!!!
Let's do this thing.
Todd Gurley Is Great At Football
I'm so glad we have such a DGD. It's great to be a Dawg. DGD. So great. So wow. It makes my heart sing and leap and dance like a river-dancer dancing on an actual river. Also, Hutson Mason gave great effort on that block. He's a DGD too. So great to be a Dawg.
A Ref Fell Down
Weeeeeeeeeeeeeeeeeeeee!!!!!! The Hat launching into the air as if to proclaim the transcendence of the created order is also awesome.
We brought down that ref like we brought down those pesky Gamecocks— just barely and almost as if we did so accidentaly by tripping and falling into them….
YAY!!!
Steve Spurrier Is Great At Coaching But He's No Match For Those DGD's.
I mean look at how confused he is here just with a basic question about how his offense exploited those awful UGA run fits with such ease and how their passing game was able to expose a UGA secondary that never really figured out how to run zone defense and how he knows not to go play-action on 1st and 4 from the 1-yard line.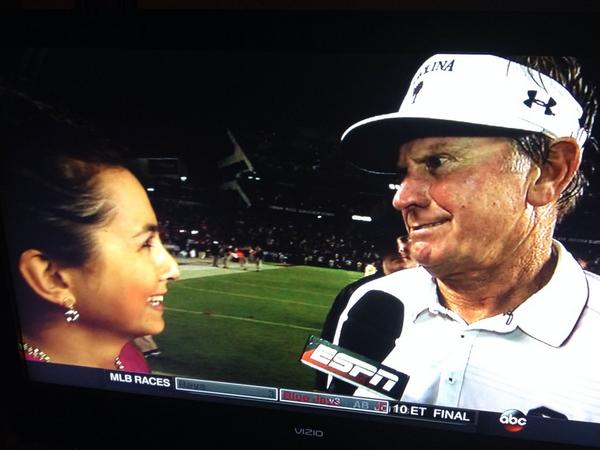 Yeah, he's so confused. Dawgs are never confused, silly! so great to be a dawg.
DGD's Are The Best At Sportsmanship
We always shake hands and go out for snocones aftewards. In fact, we bring the SNOCONES FO YO FACE MU'F*CKAAAA. Oh,….. that's not good? …yeah ok….
Sandstorm is the Best and I Love When They Play It After They Score Which Means I Love When They Score A Lot
SCENE
INT. SOUTH CAROLINA PRESS BOX – NIGHT
The game is heating up down on the field.
The South Carolina PA Man, REGINALD, sits at his sound console, caressing it like a kilo of black tar heroin.
A young and hip INTERN enters.
INTERN: Hey, Reginald, this seems like a great time for a song. How about we mix it up? There's this awesome jam called "We Dem Boyz." I bet if you drop it now the place will go crazy.
Reginald closes his eyes and sighs as if someone just suggested Sierra Nevada is better and more refreshing than Redd's Apple Ale.
REGINALD: F*ck that noise. I only play the hits.
Reginald stares at the intern as he slowly lowers his index finger down onto the PLAY BUTTON…
DGD's Are So Tricksy That's Why I Love Them
Oh, you think we're going to give it to our Heisman candidate down on the 4 yardline? HAHAHA joke's on you!! DGD's for the WIIINNNNNNN….
Oh….
That's Cool. We Can Still Kick A FG. Our FG Kicker Is Such A DGD. He Has A Great History of Reliable Decision-Mak…oh shit
No Matter What Anyone Says It Doesn't Matter If You Win Only That You Give It Your All Only To Come Up An Inch Short
YO SOY UNA MARIPOSA BONITA!!!!!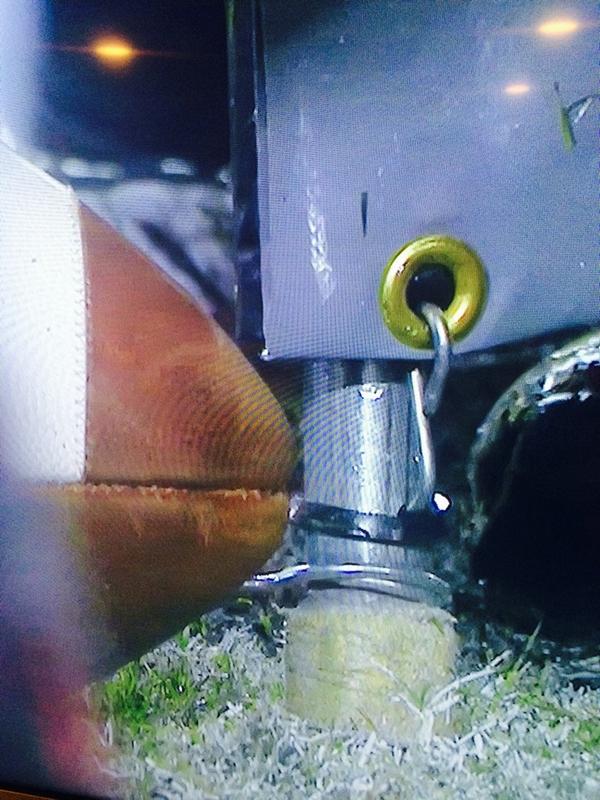 Well, that's it!
Hope you enjoyed this great wrap up of an even better football contest where everyone went home a winner!
Except us.
It's still great to be a da…[whimpers].
xoxo
Jason