Weekly Schadenfreude: Florida May Have to Pay Idaho A Million Dollars for Kicking Off
DudeYouPodcast 5-Star Contest: Want free tickets to an upcoming Georgia home game? Leave a 5-star Review of the DudeYouPodcast right here on iTunes. Then shoot us an email at DudeYouPodcast@gmail.com telling us who you are and what your review said. We still have four tickets to give away this week. But your review must be 5-stars!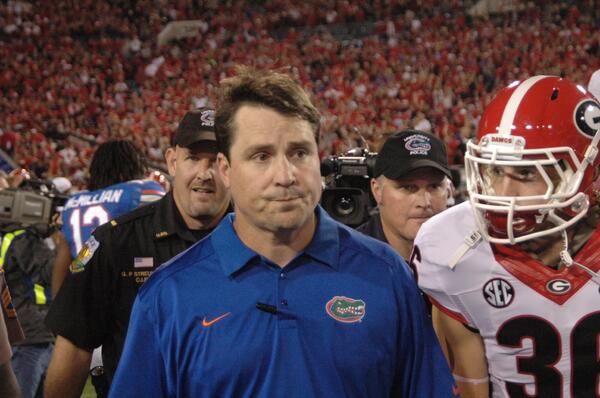 Things just keep getting worse down in Gainsville, which means that things just keep getting better and better and better in the hearts of Georgia fans.
Once the dust cleared over the weekend you may have looked up and realized that you never saw a Florida score. You then may have found out via ESPN, the blogosphere, or a Jim Cantore live report (this didn't actually happen but how great would that have been?) that Florida's game against the Idaho Vandals was canceled due to frequent lightning strikes.
They weren't wrong to cancel, mind you. After all, this happened very shortly after they cleared the field.
Still, an awesome story has come out of this whole thing.
It turns out that the contract Florida signed in order to bring Idaho down to Gainesville may force them to pay almost a million dollars ($975,000, to be exact) to the Vandals without gaining an official win over the perennial cupcake.
You see, apparently the contract says that if Idaho "participates" in the game then they are owed their pay for doing so. If you saw any of the "highlights" on SportsCenter then you know that Idaho actually kicked off to Florida, a kickoff the Gators almost returned for a touchdown. The game was immediately suspended afterwards due to lightning in the area and (frankly) a field that resembled an actual swamp more so than a football field.
And kicking that football, according to Idaho, means they "participated" in the game.
So, hey Gators, Idaho has something they'd like to tell you…
Now, this means that Florida can't count the supposed "game" as a win because there was no score when the game was officially canceled.
Big Picture Implication: this means Florida can't count the game towards bowl eligibility, something most people agree Muschamp has to reach in order to retain his job. Add to all that the fact that Florida will only be able to reschedule the game on its bye week (the week before they play, wouldn't you know it, Georgia). The latest rumor I've heard is that Florida is attempting to negotiate an Idaho forfeit.
Yeah, good luck with that Gators…
xoxo
Jason