UGifA: The Best GIFs, Images, and Vines From UGA's Beatdown of Clemson
DudeYouPodcast 5-Star Contest:  Want free tickets to an upcoming Georgia home game?  Leave a 5-star Review of the DudeYouPodcast right here on iTunes.  Then shoot us an email at DudeYouPodcast@gmail.com telling us who you are and what your review said.  We'll select one winner every day for five days starting today.  But your review must be 5-stars!
As you all may remember from the World Cup a few months ago, I love GIFs and Vines of awesome sports things.
As absolutely all of you know, Saturday night's matchup against Clemson contained more than its fair share of awesome sports things.
The only way to commemorate this is to compile all the finest GIFs, PICs, and Vines in the land.
So let's talk a little walk down the Internet, shall we?
My God (Not) A Freshman
First things first, Herschel Walker was there.
He got a hug from Katharyn Richt, and I mean, why not?
Everyone together now, "Mawwwwwwwwwwwwww……"
Butler Kicked A Long One, A Long One…
Also Kevin Butler was there. He was honored during halftime because back in 1984 Butler did this…
On Saturday, Kevin Butler — along with his holder and center — strode out onto the field to a thunderous ovation from the Bulldog faithful.
And wouldn't you know it, they stood together on the 49 and a half…
Unfortunately, I don't have a picture of it. Anyways…
God Bless Ye Students of Athenstown
Because this is the best damn sign since that Bama fan blew up a giant version of his face…
Then the game actually started and, well, it started out ok. Not much really happening. Some funny stuff though, especially…
The Golf Clap
This is Leonard Floyd applauding whichever Clemson back he just devoured's failed rushing attempt. Good stuff.
Then things, and by "things" I mean "Todd Gurley," really got started.
I Might Score, I Might Not, Whatevs
Todd Gurley is the only back I know who could score against (supposedly) one of the nation's best front seven and make it look like he's not really trying all that hard. As if, he could turn around and run to the other sideline and still score standing up.
Things only got better from there.
The Return
I'll admit something to you. When Todd Gurley first lined up as kick returner pretty much everyone sitting around me (and I definitely definitely joined in) expressed their (drunken) rage that Coach Richt would risk our best weapon on a "meaningless" play.
Then…..well…….
My favorite part of this is not the incredible wedge-concept block or the fact that Todd Gurley outruns every Clemson player by just about a thousand miles. My favorite part is the one guy that catches him in the endzone, whom Gurley basically throws off like a rag doll with a single-shoulder shrug. God this kid is good.
And….
Todd Gurley Wants to Play Both Ways…
….cuz that's him in the defensive huddle. I'm cool with it if Pruitt is.
In fact, I'm cool with it either way.
Chubb Fires his First Shot
Early on in the second half, Nick Chubb got in on the feeding frenzy that was just beginning. He had a few decent carries, and then this happened.
I like this guy. Especially because after Todd put UGA up 31-21…
Chubb says, "Oh hey Todd, I can do this s*** too!!!"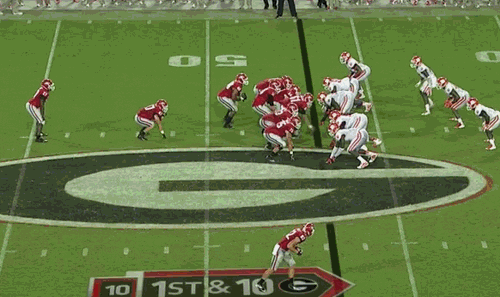 [UPDATE: Big thanks to DDawg for pointing this out in the comments. Apparently Chubb loses his shoe on the 35 yard line, when a Clemson linebacker attempts a leg tackle that Chubb breaks. How awesome is it that #45 thought he had Chubb and then looked down to find himself holding nothing but a shoe. You can see the lost shoe even more clearly in the Vine video below this GIF.]
This was, in fact, my favorite run of the night. I've been amped about Chubb since the moment we all saw how high he could jump on a whim. I was surprised to see Sony Michel get in before him. Sony, however, did not disappoint. But when Chubb came in you could tell he ran in the raw, dare I say, Gurley-esque way we've all come to love.
I was in the stadium when Chubb iced the game on this ridiculous glue-glass-and-nails-to-your-knuckles-fight of a run. My friends will tell you that when this run happened I didn't jump or move or yell. I stood rooted to my seat in section 317 row 19 with my jaw hanging down to my lap. This run is a damn miracle.
And this next vine makes it even better….
Chubb Fall
[UPDATE: Watch Chubb's left foot here….]
This is so beautiful. This freshman just iced the game in what might be one of the most memorable seasons of UGA football in decades. He should do something cool as ice so we are all left in awe that he isn't crapping his entire silver britches.
Instead Chubb fell down.
Then he did a "pancake-that-fool" celebration with David "Boss" Andrews — who, by the way, went almost step-for-step down the sideline with one of the fastest men in the state of Georgia.
God, I love College Football.
And after all that great stuff there was only one real thing for a gentleman of the great state of Georgia to do….
DAAAAAANNNNNNNNCCCCCCCEEEEEEEEE
Drop the mic, fellas.
____________________
That ends this round of dispatches from the Internet. Stay (sorta) sober out there Dawg fans.
xoxo