The NBA Draft Live Blog
Well folks, it was fun. If you are logging on on Friday, June 27th and have not followed the NBA Draft, I would highly suggest starting from the bottom. Thank you to Twitter, a few buddies chiming in via text, and Avery Brewing Company's Maharaja IPA for keeping the first-ever DudeYouCrazy NBA Draft Live Blog afloat.
There will be NBA pods from Palmer and I in the next few days, because the best player on the planet is technically a free agent. Otherwise, get ready for some football, as we are set to preview the SEC as nobody has done it before.
Have a night!
10:46 PM: I said, two hours ago,
"9:00 PM BEST PLAYER(S) AVAILABLE UPDATE:
Kyle Anderson, UCLA: he could literally play the 2, 3, or 4 in the NBA. Wait, how was UCLA not good last year?"
Effing Spurs.
10:45 PM: Pick for steal of the draft: whomever is taken at 30. Feeling K.J. McDaniels from Clemson.
10:41 PM: Punmaster Hunter texts me that I've been missing Rece Davis puns all night.
1) RE: Clint Capela from Switzerland: "Most people are neutral on him, but the Rockets hope the pick won't be a Swiss Miss"
2) Promo for Uruguay/Colombia World Cup matchup: "a match you can really sink your teeth into"
Thank you, Hunter, for saving the end of this liveblog (which appears at the top of the post).
10:40 PM: OKC is SUPER making sure they can pay Westbrook and Durant the max and everyone else the minimum for eternity, huh?
Josh Heustis. I guess? He can replace Thabo Sefolosha?
10:36 PM: This is how I know we're dead here, folks:
Cleanthony not as Early as we all thought. When is he getting picked?

— Hunter Culbertson (@HunterCulb) June 27, 2014
10:30 PM: I'm not that funny, so big shout to Twitter for hopefully keeping this bad boy afloat. BOGDAN BOGDANOVIC TO THE SUNS, Y'ALL!
RLRT @mattwatson: "He was born into a family of leftist intellectuals."

— Luke Zimmermann (@lukezim) June 27, 2014
10:25 PM: Palmer and I discussed PJ to the Hawks earlier today. I feel even better about it now.
10:22 PM: Nothing else objective happens here tonight.
10:15 PM: Clint A-Capela to Houston at 25. Someone on ESPN called him the highest upside player in this draft. Which means, much in the way of Maciej Lampe, we'll never hear from him again.
MORE IMPORTANTLY: Let's try this again! #PJtoCharlotte (actually hearing this is a go)
10:11 PM: I haven't had any sources deny this. Dead silence in Charlotte.
Breaking: Miami has agreed to a sign and trade sending LeBron James to Charlotte in exchange for Shabazz Napier.

— DudeYouCrazy (@DudeYouCrazy) June 27, 2014
Palmer ain't heard.
@DudeYouCrazy THIS IS WHY NO ONE TAKES US SERIOUSLY. #UnnamedSauces

— Napoleon Turnuphard (@dpalm66) June 27, 2014
10:08 PM: Didn't hate Shabazz Napier to Charlotte, but he's an INSTANT upgrade over 'Rio and Norris Cole. AND, at 22, he's the youngest player on the roster by FOUR YEARS!
10:05 PM: Let's do this, Charlotte.
RT @CurryShoff A PJ chant has broken out in TWC Arena

— Dijana Kunovac (@dijana_kunovac) June 27, 2014
10:03 PM: Rodney Hood could COULD be a steal for Utah at 23. BUT… apparently he slipped because he has crippling anxiety that hit him before games and pre-draft workouts.
9:59 PM: ANOTHER guy from UCLA I've never heard of? What in the…? With nothing more to go on, I assume Memphis already has this exact guy in Quincy Pondexter.
Really thought Memphis would take Panda With A Surprisingly Good Hook Shot there.

— Ryan Nanni (@celebrityhottub) June 27, 2014
9:52 PM: Mitch McGary to OKC? Isn't that what you did with Steven Adams last year? Another big who can't stretch the floor for Durant and Westbrook?
9:45 PM: Some Brazilian dude. He reminds me of Antetokuonmpo a little bit in that he's tall, skinny, athletic, and nobody has any clue who he is. And yes, I had to Google how to spell 'Antetokuonmpo'.
I think that footage came from a Super Nintendo.

— Ryan Nanni (@celebrityhottub) June 27, 2014
9:36 PM: So every time I go to embed a Tweet or video, I keep thinking it says 'Embiid Tweet' and I chuckle.
I suck.
9:33 PM: Tyler Ennis, unflappable.
9:32 PM: Yo, #throwbackThursday has made it to ESPN. THIS IS WHAT YOU HAVE WROUGHT, MILLENNIALS.
9:26 PM: With James Young, the Celtics have had the best draft thus far. And Bill Simmons just got arrested for indecent exposure in public.
See?
Stick around for Round 2, when Bill Simmons will get a tattoo of Tom Brady punching Derek Jeter live on the air!

— Ryan Nanni (@celebrityhottub) June 27, 2014
9:21 PM: With the 16th pick, Chicago takes a guy who will never play in the NBA on Denver's behalf, further underscoring Doug McDermott's VAST NBA value.
HALFTIME! In honor of the last thing to transpire…
9:17 PM: Damn, NBA. Making it dusty in here with Payne followed directly by the Isaiah Austin tribute.
Can't say enough about this moment for Isaiah Austin https://t.co/mpCVfB4sZb

— SB Nation NBA (@SBNationNBA) June 27, 2014
9:10 PM: Adriean Payne to Atlanta. A legit big ole 4 with range out to 20 feet, with a heart of gold. Seriously. 
Palmer feels good about it.
Valid point. RT @dpalm66: @kilmoonie @JasonWalkerSBN he liberated us from Marvin and Joe in one week. #IBelieveInDannyFerry

— Jason Walker (@JasonWalkerSBN) June 26, 2014
9:08 PM: Heh.
It appears we're all in agreement that Zach LaVine mouthed "xxxx me" after getting drafted by the T'Wolves.

— Dan Wolken (@DanWolken) June 27, 2014
9:04 PM: T.J. Warren scored 25 a game last year? Damn. Still couldn't beat Carolina.
Jay Williams: "I read an article where you were the best player we've never heard of."
T.J.: "It happens when you play at N.C. State."
OF NOTE: WAY TO END YOUR SENTENCES IN ADVERBS, JAY.
9:00 PM BEST PLAYER(S) AVAILABLE UPDATE:
Kyle Anderson, UCLA: he could literally play the 2, 3, or 4 in the NBA. Wait, how was UCLA not good last year?
P.J. Hairston, UNC Texas Legends: still, IMO, the best 2 in this draft. 6'5 230 with a ridiculous J.
T.J. Warren, N.C. State: dude. gets. buckets.
TRADE: Elfrid Payton for Dario Saric. Carry on, doesn't move the needle.
8:57 PM: This is insanely accurate.
8:54 PM: The mock from the 6:37 PM update was one of those "holy crap" spot-on's. Nailed the Fran Vasquez part too.
8:51 PM: Internet porn references on the NBA Draft broadcast. Never seen that in the lottery before.
8:44 PM: The McDermott comps are SLAYING me, man. Szczerbiak! Morrison! Galinnari! McDermott! America!
And he just compared HIMSELF to Wally Szczerbiak.
Adam Morrison was an NBA champion too, Doug.

— Chad Floyd (@Chad_Floyd) June 27, 2014
this guy seems gritty

— Lana Berry (@Lana) June 27, 2014
8:42 PM: Our #postracial Editor-in-Chief. Proud to be a part of DYC.
Tired white-to-white-only and black-to-black-only player comparisons. Here's Elfrid Payton's real comp. #NBAdraftpic.twitter.com/eozQDiu3rM

— DudeYouCrazy (@DudeYouCrazy) June 27, 2014
And, hey Denver:
8:36 PM: See, SEC, this is why you suck at basketball. A top-10 pick just came out of UL-Lafayette. With great hair.
DRAFTFACT: Elfrid Payton is an anagram for "Only Draft Pie."

— Ryan Nanni (@celebrityhottub) June 27, 2014
8:29 PM:
THE CURSE OF THE BOBCATS IS LIFTED. (Note: I have never seen Noah Vonleh play.)
so here's the thing about vonleh: if he's as good as i've heard ppl say lately, i don't see how tom crean still has a job.

— Bomani Jones (@bomani_jones) June 27, 2014
8:26 PM: DudeYouPodcast soccer mercenary Sam Franco texts: "on a scale of 1 to last year when y'all drafted Zeller*, how pissed are you about to be?"
EXTREMELY, SAM.
* things were said at the Blind Pig in Athens that I still don't regret.
Buddy Sean chimes in: "You'll find me hanging from the ceiling fan if we take McDermott"
8:22 PM: Rece Davis just used "Sacramento Kings" and "stability" in the same sentence without the words "lack" "have no" or any other negative. What?
VONLEH TO CHARLOTTE!
8:17 PM: And the Celtics and Lakers take the two guys I wanted to fall to Charlotte. I hate the NBA.
/Prepares self for McDermott
//Prepares to watch Noah Vonleh go to Sacto.
///Dies
8:14 PM: 6'3 227? LAWD. Fans, don't mess with this man.
8:12 PM: Hey Boston, you've had success with white guys before! Please take Doug McDermott!
8:09 PM: I'm genuinely excited to watch Dante Exum play. Great analysis by the female ESPN suit there: "Your son actually decided to FOREGO college." #5 overall pick, probably a good call.
8:04 PM: 
"So, why did you draft this guy with your first-round pick?" "I dunno, that's who @WojYahooNBA said we were taking, so we took him"

— SB Nation (@SBNation) June 27, 2014
8:01 PM: ESPN, we won't get mad if Jalen Rose accidentally has a microphone malfunction for the rest of the first round. Go ahead.
7:59 PM: Whoa. Tyrus Thomas 2.0 comes in only 2.0 spots below Tyrus Thomas.
7:58 PM: So, Exum to Orlando and a fearsome, athletic backcourt with two not-natural points in Exum and Oladipo, right?
7:54 PM: LOL PHILLY. Embiid looks pissed, Philly uses their redshirt system and now has two injured centers who don't have marketable offensive skill, and Bilas tips his cap to the WINGSPAN drinking game. God bless the NBA Draft.
embiid looked like "it ain't real til i see a check."

— Bomani Jones (@bomani_jones) June 26, 2014
7:52 PM: Jabari Parker reppin' Chicago for Milwaukee. I see you.
7:47PM: EPIPHANY: Jabari Parker is only one year older than Mallory Edens. Do with that what you will.
7:44 PM: I failed you, DYC readers. DRINKING GAMES! The obvious Bilas "long" comments, but ALSO PLAYERS' SUITS! On queue, Wiggins namedrops his designer. /finishes first beer.
This is the suit of a No. 1 overall pick: pic.twitter.com/vEXuPST8Pu

— SB Nation (@SBNation) June 26, 2014
7:41 PM: Damn. Good pick for Cleveland though. He'll be able to contribute on D right away, either alongside Irving in the backcourt or with Irving/Waiters.
Next, we get to hear about the great job Mike Krzyzewski did grooming Jabari Parker to a first-round tourney loss. #SHADE
7:38 PM: God, this sounds like my sentiment on Cleveland ruining Johnny Manziel. But please, Cleveland, PLEASE don't take Andrew Wiggins, my favorite player in this draft. Please.
7:32 PM: If you had cheers, you win a lot of money!
6:57 PM: UNDERRATED STORYLINE: the reaction to Adam Silver in his first draft as Commish.
Odds:
-140: Typical loud booing and chanting, because New Yorkers are a pain in the ass.
+195: Mixed boos and cheers because he's not David Stern.
+375: Cheers for showing nads the way his predecessor couldn't by ousting Donald Sterling.
+685: Dan Gilbert runs onto the stage shouting BABA BOOEY and drafts Johnny Manziel #1.
+13,265: In a surprise move, Isiah Thomas fails up to Commissioner of the NBA.
6:52 PM: Chris Broussard (who has serious sources, you guys) says this could be the most volatile draft ever. So logic applies that this might actually get boring. Regardless, I'm going to pick up some food, some beer, and IT. IS. ON.
6:37 PM: This was too good to pass up, but is as accurate a mock draft as I've seen.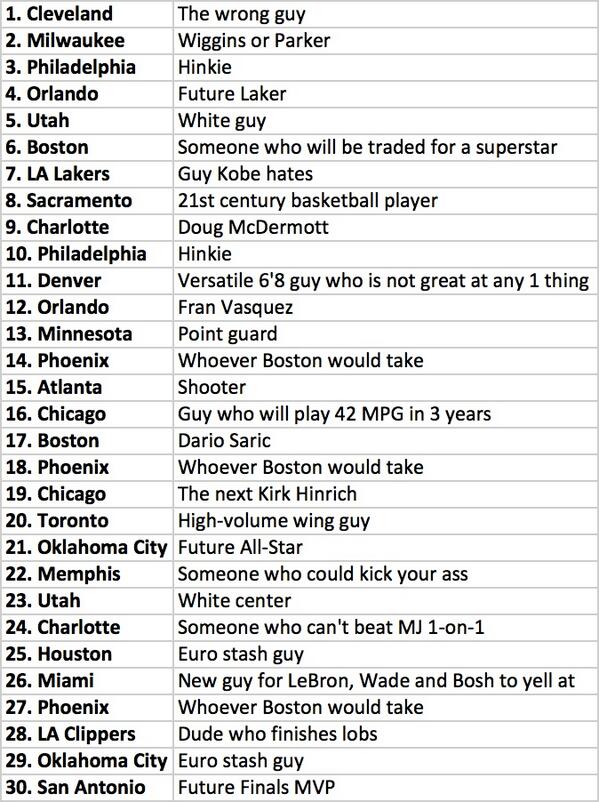 5:47 PM: Welcome to the NBA Draft, possibly the most entertaining night on the NBA calendar. Pundits tout tonight's draft as the best since the LeBron/Darko/Melo/Wade/Bosh gamechanger of 2003, except none of the players who will be drafted tonight have the pedigree of any of those guys.
Why is this the most fun event of the NBA year? Bill Simmons pretty much nails it here. Teams will mortgage their futures, sabotage their presents, and make unthinkable trades like only NBA execs can.
So, barring the following scenarios: 1) Jason has crashed the whole DYC server following a mass conversion to soccer fanhood; 2) an intoxicated Andrew Hall sabotages; or 3) the Hornets draft Doug McDermott; I'm with you through the first round of the 2014 NBA Draft.