Monthly Archives:
June 2014
Simultaneous Game Week is now complete and our Round of 16 Bracket is set. There were many surprises, many "no-duh's", and mostly pure dramatic goodness. I'm currenty reporting live from a very rainy Universal Studios, Florida. But the lightning, ultraviolet rays, and Universal employee who misspelled my name on my pass so that I get frisked on my way into the park everyday CANNOT STOP SOCCER KNOWLEDGE.
Leggo:
1. MIGUEL HERRERA IS THE BEST THING TO EVER HAPPEN TO SPORTS SINCE THE FORWARD PASS;
If you haven't been tuning in to the World Cup and still aren't sure if you want to watch anything other than the USMNT play Belgium then let me give you a reason: Miguel Herrera.
The Mexico manager is a one man GIF machine.
In the match against Crotia, which decided whether Mexico would be drummed out of the World Cup or move on to the Knockout Round, he was the whole spectrum of a Telemundo Soap Opera. Uncontrollable Anger, Complete Elation, and Physical  Lust. Just stand back and enjoy:
And then in slo-mo….
All in all we here at DudeYouCrazy are excited for nothing more than the the fact that we get Miguel Herrera vs. THE NETHERLANDS for Mexico's World Cup life. It's gonna be great.
2. SAM FRANCO IS NOT A HAPPY CAMPER
Sam Franco's beloved Ecuador finished in a 0-0 draw with France, a pretty good result considering that France has been blitzing pretty much everyone they play.
All they needed was for Honudras to CONCACAF (still a verb haterz) Switzerland and they would be through to the Knockout stages.
Instead, Honduras got filled full of more holes than Swiss cheese by the Swiss. (Get it? do you get it?) And poor Ecuador, who have looked lethal through two matches thus far, are going home much too early.
While the US did get through, Sam's dream week couldn't come to full fruition. Thus, we need a new GIF:
Sorry Sam. I promise this isn't because you called me a communist and a pirate.
3. GUYS,…….WE'RE THROUGH.
And what do we say to the Group of Death?
Yes, the USMNT pulled off an incredible run to skirt past the gaping jaws of the Group of Death. Sadly, this achievement is lessened a bit by some of the more miraculous runs of the tournament (Costa Rica and Greece) as well as the fact that the USMNT looked close to dominant in its game vs. Portugal. Make no mistake, however, this is one of the greater victories of US soccer.
4. MY PREDICTED WORLD CUP CHAMPION IS STILL OH MY GOD WHY DID YOU GIVE AWAY A PENALTY IN STOPPAGE TIME YOU MORONS
After Wilfried Bony proved to everyone in the Premier League that he is worth the money, the Ivory Coast defense decided to upend a Greek player standing in the middle of the box in full view of the referee with less than a minute to go in the game.
Watch for the knee-level trip….
Georgios Samaras, a player we gave kudos to in the first week of the World Cup for insisting that the ref NOT call a penalty, drilled the PK home and sent the Elephants to their fiery doom. Ivory Coast's golden generation of Yaya Toure, Kolo Toure, Didier Drogba, and Gervinho look as though they will never bring their World Cup aspirations to fruition.
And my bracket is busted.
But never fear, I have a new winner to predict on an upcoming podcast so all you haterz can just chillax for a second, ya heard? (I don't really know how to use, "ya heard" in a sentence. Did I do it right?)
5. COME AT US WAFFLES!!!!
The US advanced on a loss to Germany in floody Recife (though the pitch was somehow miraculously well-drained. Good stuff, FIFA). They now face Belgium, a team who has underachieved at this World Cup for all the hype they have been generating for the past two years. They will face a Belgian squad without Steven Defour, who was given a Red Card in their match against South Korea yesterday. Defour will be the least of the USMNT's worries though, as Belgium's stable of talent still holds players the likes of….
Eden Hazard
Adnan Januzaj
Romelu Lukaku
Vincent Kompany
and Thomas Vermaelen
Gulp.
Still. We have this guy.
6. LUIS SUAREZ SHOULD SEEK HELP IMMEDIATELY
If you had sat down with myself and four other Liverpool fans we probably would have told you that the only way for Luis Suarez could have a bad World Cup FOR US was to get injured.
Or to bite someone again.
……….
Well, shit.
Yeah, Suarez did that thing he does and took a chunk out of Chiellini's shoulder, and he was subsequently (and RIGHTLY) banned for the rest of the World Cup. He was also banned for all soccer activities for the next four months, which is awkward for we Liverpool fans because the season starts in two months.
Apparently when people told him to keep his hands to himself as a child they neglected to mention that his mouth was not an acceptable substitute….
7. COLOMBIA LOOK REALLY GOOD
I mean like really….
Really….
Really good….
Which means….
8. BRAZIL MUST RUN THE HOT DAMN GAUNTLET
If the top seeds advance (and at this World Cup that is not even remotely a guarantee) this will be Brazil's road to the World Cup Final:
1. Chile, 2. Colombia, 3. Germany, 4. Netherlands or Argentina.
If Brazil wins this tournament it will be because they are truly the best team in the World.
9. DIE TIES DIE!!!!!!! MURICA!!!!!!
Ties are now dead. Rejoice! From here on out there will be a winner and a loser for each match. This also means that the penalty kick shootout comes into play after 30 minutes of added time have expired. This is certainly the most entertaining way to decide a game but has no semblance of fairness whatsoever. We college football fans feel your pain, soccer fans.
10. MATCHES YOU HAVE TO WATCH ARE HERE
In lieu of giving you a big post on which matches to watch and why I'll just give you a short rundown here. I'm going to go in chronological order because some of the best games are TOMORROW and I want you all to be prepared.
1. Brazil vs. Chile – TOMORROW, Noon.
Chile has been great. Wright Thompson wrote something exquisite about them that makes me want to root like hell for them. Furthermore, Brazil could very well lose and that will be a sight to behold.
2. Colombia vs. Uruguay – TOMORROW, 4 PM
Sure they have no Suarez but Uruguay is still a force to be reckoned with, and Colombia are looking every bit like the dark horse that could win it all. It will be worth your time, guys.
3. Mexico vs. Netherlands – 6/29, Noon.
The Dutch look ready to steal this tournament. They have drawn the easier side of the bracket, what with Argentian's Sergio Aguero going down for the tournament and no other real force to speak of coming out of the right side of the bracket. Push through Costa Rica and Argentina and you are back in the World Cup final for the second straight time.
But then there is El Tri…
Now, don't fool yourself. I hate Mexico. I want them to lose every game that isn't going to make CONCACAF look bad. We have now crossed that threshold and I will hoping Robben and Van Persie troll Mexico to a 10-0 defeat.
But don't be surprised if Mexico—a team that pushed Brazil to the brink in their second match—takes Holland all the way down to the wire. Be in front of a TV for this one, people.
4. USMNT vs. Belgium – 7/1, 4 P.M.
Duh. Steel yourselves. This could be pure euphoria or absolute Red Wedding level tragedy. This team does nothing in between.
That's it. You can expect your weekly grab-bag of GIF's and ALL CAPS as we move throughout each round.
It's single elimination time so, as always…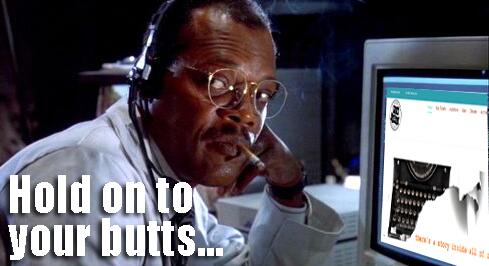 xoxo
Jason